WEDNESDAY 9:30 PM
https://player.theplatform.com/p/BdHJDC/pdk6PocStable/select/media/ZtQ9uJ11YEpR?form=html&playAll=true&playIndex=first&autoPlay=true&logLevel=none&params=csid%3De_online_vod_ooc%26vcid2%3Dl0714_7126964693989802591%26_fw_h_referer%3Dwww.eonline.com%26fw_gdpr%3D0%26_fw_us_privacy%3D1—#playerurl=https%3A//www.eonline.com/news/1345201/these-raising-a-f-ing-star-kids-want-to-be-the-next-gigi-hadid-and-jay-z
Watch: Why Former AGT Star Flau'Jae Johnson Is the Next Big Rapper
The stars of E! new reality show are ready to become Hollywood's next big thing.
Raising a F***ing Star dives into the world of today's biggest up-and-coming child stars and the parents behind them helping to make their dreams come true. Among the show's talented cast of kids is model Breanna Bunevacz, who exclusively shared with E! News which of today's biggest supermodels she aspires to be like one day.
"I'd say Gigi [Hadid] is definitely an inspiration," she revealed. "But I'd say more of an inspiration would be, probably Taylor Hill, just because she didn't have that boost of already being in the celebrity industry like Gigi and her mother."
But it wasn't Gigi or Taylor that sparked her interest in modeling. Rather, it was her mother and manager (ahem, momager) Jessica Bunevacz, who was a former model in the Philippines before moving the family to the U.S.
"I remember in the Philippines, I was a kid, and she would have all of these makeup artists come to the house, and I would always just be jealous," Breanna shared. "And I was like, 'Wait, I kind of want my makeup done.'"

Meet the Families of E!'s Raising a F***ing Star
Like Breanna, her co-star Flau'Jae Johnson—who is managed by her mother Kia Brooks—is also following in her parents' footsteps. Her late father Jason Akeil Johnson, a.k.a. Camoflauge, was also a rapper, and carrying on his legacy through music has been "amazing" for the young star. She told E! News, "All I've ever wanted to do is just like make sure his legacy stays alive through what I'm doing."
In addition to her dad, there's another iconic rapper Flau'Jae looks up to. "Jay Z," she said, adding, "Really turning it into a business and doing other things other than just music. I really want to venture out and be a businesswoman."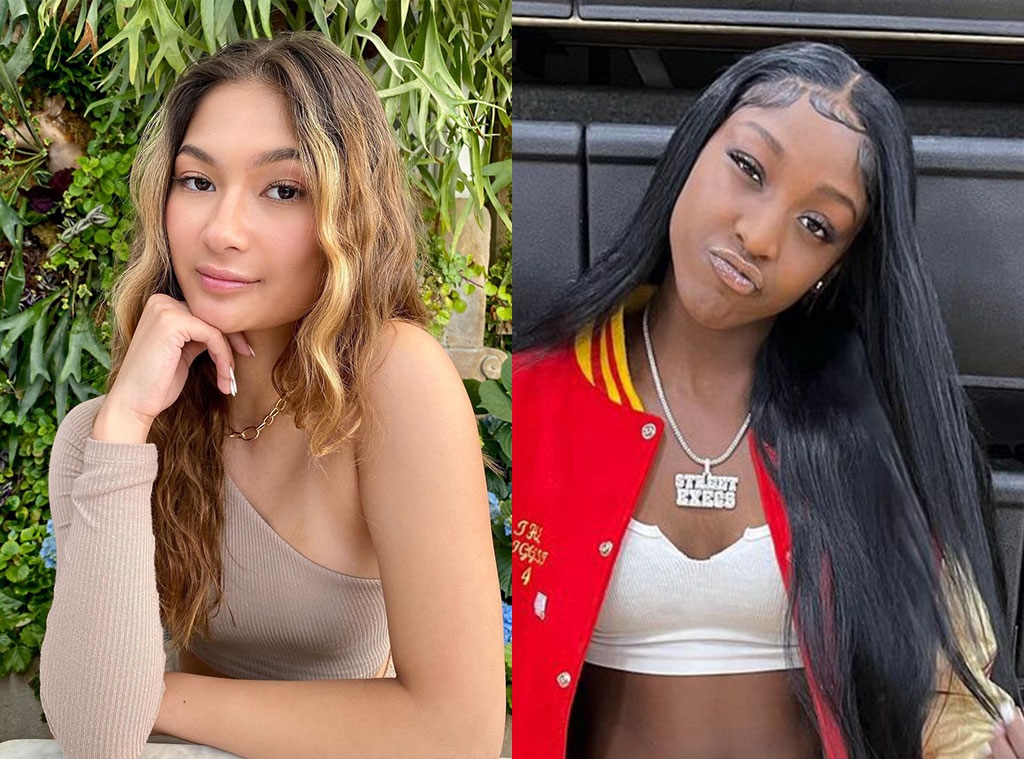 Instagram
But when it comes to collaborating with other artists, Flau'Jae's open to exploring other musical genres, as she told E! News, "My dream collab would probably be Ed Sheeran, The Kid LAROI, Rod Wave and J. Cole."
While Breanna and Flau'Jae may be on different ends of the entertainment industry, one similarity they share is understanding the importance of family. And it's their individual family dynamics that they're most excited for fans to see on the show, which premieres Sept. 7.
"Family is more important than everything else," said Flau'Jae. "When we're good as a family, we're good at everything, so we just gotta keep that first."